Jit Samaroo Launches New CD
By CALDEO SOOKRAM - courtesy Trinidad Express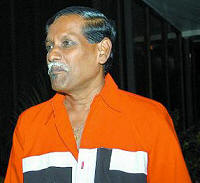 THE launching of Jit Samaroo: Original Notes held the spotlight at the Hilton Trinidad last Monday evening. Just three days earlier, Jit Samaroo received an honorary Doctor of Letters from the University of the West Indies for his musical accomplishments.
"Jit Samaroo's name is now part of our history," said Mark Loquan, president of Hydro Agri Trinidad Ltd, in launching the CD with six original compositions of the pan virtuoso. The project he noted, was undertaken to preserve our musical history.
"Jit has a passion for perfection,'' said Culture Minister Penelope Beckles. "His cross-cultural influence is evident in his compositions. He is one of the most successful composers and arrangers in this country and the first to have his music preserved in this way.'' When his turn came to speak, Samaroo said he was happy that he stayed with the steelpan. "I had no hobby and in a family of 13 children I had to find a way out. We had to work hard to survive,'' he said.
Of his six compositions on the double CD produced by Hydro Agri Trinidad Ltd, Samaroo said "Milap" was his favourite number. "The structure of the melody is beautiful. It has a nice feel, it's a song for the common people,'' he said. The tempo of "Milap" (Meeting) is quick with a typically folk-like melody. Another number "Utsav Ki Awaz'' (Festival of Voices) begins with a slow lyrical section in the style of an alap. This is effective with its exchange between high and low notes with sustained accompanying rolls. After a pause on the chord of C major, the drums change into a quick chutney tempo. "Pan Patterns'' with its clear Mozart influence points to Jit Samaroo's inclination for creative stylish works.
"Song of Lopinot'' a number composed with villagers in mind, is a symphonic poem providing a canvas for folk idioms. Jit's inclination to create a fusion of several musical traditions is evident. "Jaago'' (Wake Up) captures the stylistic vocal orientation of Indian music. Like all pan chutney compositions of Samaroo, "Jaago'' reaches a breathless climax with a rhythmic flavouring that can be identified with Indian music.
"Coleman's Jam'' was composed as a tribute to Fitzroy Coleman. It is a fusion of Coleman's Jazz guitar style, folk music, Latin jazz and calypso. Several compositions of Jit Samaroo's Original Notes were Test pieces for pan competitions. "Pan Patterns'' was the 1985 Junior Steelband Festival Test piece and "Utsav Ki Awaz'' and "Milap'' were the 1995 National Pan Chutney Competition Test Pieces for the conventional and pan-around-the-neck steelbands respectively.
"Song of Lopinot'' was the 1987 Junior Steelband Festival Test Piece and "Jaago'' (Wake Up) was the 1997 National Pan Chutney Competition Test Piece for traditional pan-around-the-neck steelbands. "I am happy that all these ceremonies are over,'' said Samaroo relaxing at his home. "I am also happy to receive an honorary Doctorate of Letters. I hope this could inspire other people. It was plenty years of hard work,'' he noted.
Over the years Samaroo preserved a number of his original scores for posterity. In the mid 1960s when he started music classes at St Joseph, he said he observed one day his teacher 's (Mr Henry) amazement at his perfection in creating a four-part harmony for homework. "I think this was an encouragement,'' he said, adding that the first piece he learned to read was "Old Macdonald Had a Farm''.
In 1972 Jit Samaroo led his band the Samaroo Jets to their first musical victory in the Anglican Centenary Music Festival. Later that year he also won the Ping Pong Solo Pan contest. The band recorded in 1975 its first album entitled "The Samaroo Family Steel Orchestra Classics'' featuring the works of Bach, Mendelssohn and Prokofeiv.
In later years, nine Panorama victories with bp Renegades steelband, two National Awards and numerous accolades have been bestowed upon the panman from Surrey Village, Lopinot. Many of the village youths dream of walking in his footsteps. It's a long musical journey beginning in 1963 when he started strumming the cuatro with the village paranderos. A year later he teamed up with Camboulay Steelband of Tunapuna and his next step was forming a family band, the Samaroo Kids.
That band grew up to become the Samaroo Jets, flying across Europe, Asia, Africa, The Caribbean, North, Central and South America winning plaudits and rave reviews for their concerts. Jit Samaroo said he loved to work and while awards and honours were good, he never allowed these things to slow down his quest for perfection.
See also: