Profiles of Caribbean Artistry
By Tangerine Clarke, and Vibert C. Cambridge, PhD
Dave Martins is an unquestioned lover of Guyana and things Guyanese. A visit to his home in the Cayman Islands is testimony of this truth. The driveway to his home is lined with croton trees. In his yard are a variety of Guyanese fruit trees—golden apple, whitey, star apple, carambola, avocado, soursop, mangos, etc. He is very proud of his Buxton spice. The Cayman Island parrots are very fond of his golden apple tree. We should not be surprised if we hear a song about the golden apple trees and the Cayman Island parrots in the future. Dave Martins has this ability to encapsulate a moment and enshrine it for history.
His home is a celebration of Guyana. Hard woods from Guyana—locust and greenheart – are evident in the ceilings and the floors. Guyanese art - paintings and sculpture - is proudly displayed in the spacious and warm home. A taste of Guyana's cuisine and a good gaff is guaranteed. A visit with Dave Martins is to experience Guyana's legendary hospitality. The spirit of generosity permeates his home.
Over the past forty years, this spirit of generosity has also been evident in Dave Martins' creative output. His body of work is substantial. He has given the world more than 100 compositions, which include many number one hits. These compositions, have spoken to Caribbean and Guyanese people. The compositions speak to our hopes, our aspirations, our joys, our sorrows, our pain, and our achievements. His compositions have motivated us, inspired us, chided us where necessary; told aggressors "Not a blade of Grass," and reminded Guyanese that all of it "Is We Own"
Dave's route to this iconic status has its origins in Vreed-en-Hoop, Pouderoyen, and Hague [in Guyana] where he grew up. It was in this space that he started his musical career with Joe Henry, Jack Henry, and Billy Stephenson. Joe and Jack Henry played guitars, Billy Stephenson played drums, and Dave played the harmonica. He could also play the guitar, but the group, which was never formally named, did not need three guitars.
When the group was launched, the Ramblers dominated the music scene in Georgetown. U.S. hit parade and country and western music dominated the radio. Billy Eckstine and Nat Cole were some of the popular male vocalists on the air. Latin American music was also popular. "Maria Elena," "Spanish Eyes," and "Solamente Una Vez" were some of the hits. According to Dave, few calypsos were played on the air. This musical reality influenced the repertoire of the West Demerara group.
Dave thanks Jerry Martins of Pouderoyen (no relation) for helping him to sharpen his guitar skills. According to Martins, "he wrote out some chords for me, and that got me started."
His brother-in-law gave him his first guitar, a Guyanese made instrument purchased from Hussein's music store on Lombard Street [Georgetown].
After leaving St. Stanislaus [College, Guyana], Dave Martins worked for a short period with the air traffic system at Atkinson Field [now Timehri Airport]. He migrated to Canada in the late 1950s. He recalls that just before leaving for Canada he began to "get into calypso music." There was some Lord Kitchener on the radio, however, he what he heard most often were the calypsos that relatives brought from carnival in Trinidad and Tobago. They were played in the family shop at Hague. Among the more memorable calypsos was "Grenada Excursion" by the Roaring Lion.
The musical muse traveled to Canada with Dave. Initially, he played for fun while developing his engineering career. He developed a new circle of friends. His "padnas" were Trinibagonians, and through them he begins to delve deeper into the calypso genre. He was exposed to many calypso styles---"sans humanite" and the innovations of Sparrow, Blakie, and Lord Nelson.
Eventually, he formed The Debonairs, which he describes as a professional "three-piece bar band." He disbanded the group in the mid-1960s to focus on his career and family. Instead of performing, Dave began to compose and wrote two songs that attracted critical acclaim in Canada. Both songs – "Steel Men" and "Bluenose" – reflected on the Canadian culture.
With a growing awareness of Caribbean culture, he formed the Tradewinds in 1966 and recorded four songs, including "Honeymooning Couple", Rum and Calypso," "Meet Me in Port-of-Spain," and "Tobago." They anticipated that "Meet Me in Port-of-Spain," a carnival song, was going to be the hit. The band toured Trinidad and Tobago in 1967 on its own initiative. The band was unknown and had not been invited. During the trip, the Tradewinds performed free at many venues and appeared on Sam Ghany's radio show. The Sam Ghany show was broadcast in many West Indian media markets. Within six months they were back in the Caribbean, having been invited for a regional tour.
The Tradewinds had arrived, and "Honeymooning Couple" was a "monster hit." This 1968 tour included a visit to Guyana. It was Dave's first trip to Guyana since he had emigrated. He was thrilled to be playing to a sold-out Astor Cinema. The rest is history.
Dave Martins and The Tradewinds have performed across the Caribbean and at prestigious venues around the world, including Madison Square Garden and Vancouver's Queen Elizabeth Theatre. He has performed for world leaders and at important international events such as Expo 67.
Dave's body of work is significant and influential—18 albums and five CDs. His work is a celebration of his love for the Caribbean and his unyielding commitment to Guyana. His describes his works as having a sociological lens that focuses on Caribbean group behavior. His "Wong Ping" addresses Caribbean machismo, "Copy Cats" addresses the identity crisis faced by many West Indian immigrants, and "You Can't Get" is about the frustrations experienced by young males. "Where Are Your Heroes" is a clear call to the peoples of the Caribbean to recognize and celebrate their own.
Dave Martins' works that speak to Guyana are very special to him. They reflect not only his upbringing but also identify his hopes and aspirations for the Dear Land. He identifies three factors that influence his Guyanese collection—"Play de ting man," "Not a Blade of Grass," "Hooper and Chanderpaul," "Is We Own"
The first is growing up in Guyana. Spending his formative years in West Demerara and the Pomeroon, attending Sacred Heart and St. Stanislaus, and working at Atkinson Field left an indelible impression on his psyche. This exposure to Guyana's landscape and nature has helped him "to remember the look of the trees, the lay of the land, the smell of the place, and the feel of the road under your foot."
For Dave, this natural environment conjures up a feeling that there is a blessed mystery to Guyana. That it is the home of benevolent ancestral deities like Makonaima. This benevolent mystical ambience transcends traditional religious categories and suggests a higher unifying condition. This spirit of togetherness and harmony is clearly evident in "Not a Blade of Grass" and "Is We Own." This is the second of the factors that flavors Dave's Guyanese works.
The third factor is his scholarly side. In addition to studying engineering, Dave studied journalism completing courses in the social sciences and the humanities. He has a special love for linguistics, anthropology, sociology, and history.
In 1984, the Guyana Commemoration Commission encouraged him Martins to produce a work to celebrate Guyanese life since the emancipation of enslaved Africans in Guyana in 1838. The result was Dave Martins' first musical Raise Up, also titled IS WE from one of the songs in the work.
Raise Up was produced by the Theatre Company and had its premiere in 1988. It was judged Best Play that year. The musical also toured the Caribbean and the United States. In preparing the script and the score, Dave conducted extensive research on Guyana's post-emancipation history. He pored over dusty tomes in libraries and archives. He conducted interviews with many village elders. The experience was a reaffirming one for him.
For Dave, these three factors keep him grounded and allow him to create a music that reconnects Guyanese in the diaspora with their native land. It allows him to create a music that inspires and motivates Guyanese at home. Dave has traveled from Hague to many places around the world, he has met with presidents and prime ministers, but he has never lost the common touch. He is Guyanese to the core and acclaims it proudly.
His nation has awarded him the Golden Arrowhead of Achievement. In 2002, he was one of the first recipients of the Wordsworth MacAndrew Award by the Guyana Folk Festival Committee. On September 27, 2003, his alma mater St. Stanislaus [College] also recognized him.
Dave Martins is a Guyanese cultural hero. Dave Martins is we own…Waio!
Source: http://guyfolkfest.org
Music links and other edits by eCaroh.com
---
One on One with the Tradewinds' Dave Martins
By Felicia Persaud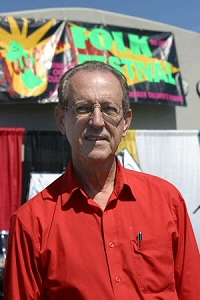 Mr. Dave Martins at the Guyana Folk Festival in New York
(All photos by Bill Farrington)
Thursday, September 11, 2003
BROOKLYN, New York: There is no denying the feelings of pride that creep into your bones and overwhelms you, the moment you hear a 'Tradewinds' song. It becomes even more 'real' as Mr. Dave Martins take you back to your 'Boyhood Days,' or paints a verbal picture that is so clear, that as a Caribbean national you swear you could almost taste some of the rum that is distinctly Caribbean, or see the cane cutters in the field and the banana farmers 'fetching (their) heavy banana load,' and vow to all foreigners, 'Not a Blade a Grass,' or sing out at a cricket match, 'Gie dem Shiv.' [Tradewinds This Is Party] Just as Mr. Martins' and the group sings about the various facets of life in the Caribbean and Guyana that 'Is We Own,' there is no doubt that the Tradewinds themselves 'is we thing.'
Patriotism and nostalgia are two emotions that are sure to rise to the surface every time you hear a Tradewinds lyric or are lucky enough to catch a live performance. Caribbean-Americans and Guyanese-Americans especially know these feelings and it is little wonder that they turned out in full numbers recently to witness a live performance of the group at the Crystal Palace Ballroom in Brooklyn, New York for the third annual celebration of the Guyana Folk Festival.
The folk festival, according to organizers, is geared at "Preserving Our Cultural Heritage." Mr. Martins was full of applause for the idea and organizers, who took the theme of his song, "Is We Own," and turned it into 'Is We Ting,'[Is We Ting] the title of a compilation CD featuring Guyanese artists.
"I see it (the fest) as an economic resource as well as one that can change attitudes," said the singer. "The possibilities are great."
Yet, while Guyanese are certain to claim Mr. Martins as 'they own,' this musical pioneer, who much to the delight of nationals of this South American country still speaks distinctly 'Guyanese,' is undoubtedly a 'Caribbean Man.'

Mr. Martins, part of Guyana's musical history
While his accent may betray him, putting down roots in the Cayman Islands, while writing tourist jingles for at least three other Caribbean countries as well as blowing like the tropical winds with his group throughout the region and in West Indian communities in North America, certainly qualifies him as Caribbean first and foremost.
Sitting on a concrete bench in the historic Brooklyn Children's Museum, Mr. Martins speaks with pride about the formation of the group in Canada in 1966.
"I was in Canada and started the Debonaires in the early 1960s," he reveals. The Tradewinds came soon after, he revealed, as he began getting the urge to write more Caribbean songs and return in a cultural way to his roots. The name, says Mr. Martins, came from the trade winds that blow through the region and the original members Messrs. were Kelvin Ceballo, Joe Brown and Glen Sorzano, all of Trinidad. Mr. Terry Dyal, another Trinidadian, joined in later years but subsequently returned to his homeland.
A joke he heard in Guyana helped push the band to instant fame both in Toronto and throughout the region. So "Honeymoon Couple," was born and remains a hit.
Today, the group has a total of 18 albums that they are re-recording on compact discs. A total of 5 discs are so far available for sale, revealed Mr. Martins, but he added that piracy and the recent availability of CD and DVD burners to most computer savvy fans, is killing sales of the discs.
"Frankly it's one of the reasons we haven't done a lot more recordings recently," said this famed songwriter, guitarist and singer. "Piracy just kills you. Since this piracy thing has hit sales has dropped right out. Still, as much as it bothers and upsets me we have to be realistic and realize that the technology is there and it's not going to go away."
He admits he has no immediate fix for the problem but we suggests that the "whole structure of how music is bought, sold and traded, has to change."
"The artist is being victimized and we have to find a way to stop that," said Mr. Martins, who stands out in the music industry for his complete handling of both the creative and financial aspects of the band.
In an industry where agents, press agents and managers take a toll on the income generated by artistes, Mr. Martins ensures he keeps those costs at a minimum by running 'Penny Records' as basically a one-man operation.
Of course fellow Tradewinds' drummer and vocalist, Mr. Clive Rosteing of Trinidad, keyboard player Mr. Jeff Japal of Grenada, bass player Mr. Richard Terry of the Cayman Islands and percussionist and vocalist Mr. Harry Cupid of Barbados, are an integral part of the group.
It is a fact that Mr. Martins is quick to point out, stressing that though none of the current members are original to the group, their 15-22 years as 'Tradewinds' more than qualifies them.
But it is Mr. Martins, 67, who handles the 'whole works.'
"You have to have control of the whole operations," he says when asked if he handles marketing, bookings, press as well as the songwriting, singing and re-recording effort. "The Caribbean is still a small market so you have to have tight control of everything or you'll be making records and they won't make any money."
Asked pointedly whether the band is making money, Mr. Martins laughs, and then says modestly, "It's profitable." Before quickly adding, "But we have an established name now. For some body to bring a band like us to a place like Los Angeles or New York or Toronto, it'll probably cost them US$ 12-15,000 per night."
Still he admits readily that the music industry "is very tough."
"You can't stay in unless you have a name," said the songwriter, who has about 110 songs to his credit. "For me it leads to CD sales or me getting calls to write a jingle here or there. And that all comes from name."
The father of three now spends his days writing, managing the annual Pirates Weeks Festival in the Cayman Islands, writing the annual musical comedy 'Run Down,' touring the region and overseas Caribbean communities at least nine times per year and in his down time, taking care of his fruit trees in his 2-and-a-half acre land in Cayman, building furniture, reading and of course listening to music.
"Life is not boring for me at all," says this tall, lanky man who still commands incredible presence wherever he goes.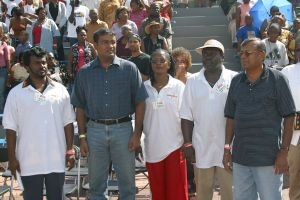 President Bharat Jagdeo pauses for the national anthem in Brooklyn
So are there any major musical collaborations he would like to do? He pauses for a moment and then responds humbly, "It would be nice to collaborate." Names such as David Rudder and the late Andre Tanker are some that come readily to his lips, but he is quick to add that the group does not do music full-time now and collaborations may be ways down the road.
His advice to Caribbean nationals is "to take more pride in what we have as Caribbeans."
"There's a lot of problems but there' a lot of things of value," says the revered regional singer/songwriter. "That is what most of my songs come from. I guess all of this comes from my belief that although there are problems in the Caribbean and in Guyana, we have examples of excellence and we need to focus on those more."
Fans wishing to catch the TradeWinds can do so at Thirst Park in Guyana next month. For Guyanese, caught up for years in racial tension, he has these word of advice: "Each of the major race groups have to get to the point of acknowledging each other. Changing the constitution and all the other stuff is not going to work if you can't respect or accept one another."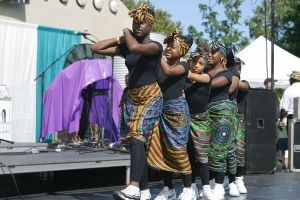 Dancers at the festival
Source: Caribbeannewsnet.com.
Reprinted with permission.