Track Listing:
I See Aysha
Niceness
Cherish
Pan Night and Day
Another Phase
Honey "Chile"
Going Home (featuring Ken "Professor" Philmore)
Where Were You All The Time
Cooling Down
Occasion
Sweet & Sexy
Trinidad and Tobago is world famous for its steelbands, and Phase II Pan Groove is one of the most extraordinary among them. Phase II was formed in 1972 by a small group of innovative and visionary musicians seeking to produce a more creative sound on pan by experimenting with different kinds of music and instruments.

After years of struggle for acceptance Phase II is today generally recognized as one of the best steelbands in Trinidad and Tobago and abroad, not in the least because of the work of leader, composer and soloist Len "Boogsie" Sharpe, the "Mozart of Pan", who is generally regarded as the world's premier pannist.

He has toured extensively throughout the world as a solo performer, with some of the world's greatest jazz musicians like Wynton Marsalis, Grover Washington, Jr., Art Blakey, Monty Alexander, Eric Gayle and Max Roach.
Phase II Pan Groove
Another Phase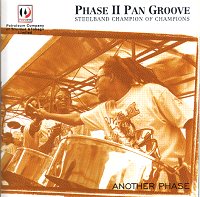 eCaroh Price: $15.95
Another Phase is mostly a studio recording by Phase II Pan Groove twenty years after its previous one. Nine tracks are Len "Boogsie" Sharpe compositions and only one of the eleven tracks is Panorama style and tempo - Sweet and Sexy. It was recorded live in Phase II's Panyard.
The remaining sixty-one minutes of mid tempo, relaxing music includes a guest solo by Ken "Professor" Philmore. Karla Gonzales, Candice Antoine and Sandra Dopson provide background vocals.
Boogsie's unique pan artistry is evident throughout the recording. He plays tenor, double seconds, four pan cellos, a special synchronized double seconds and a twelve piece bass.
The March 2003 re-release brings a high quality recording at an unhurried pace.