Narrated excerpts of every major component of carnival. Joyful noise, thoughtful commentary, and strikingly colorful visuals.

A short season, no Savannah Stage and some of the hottest music in years, Carnival 2007 sizzled with tempo and anticipation of the unknown.
Captured in this commemorative issue of inside Carnival is Trinidad's first Carnival since the 1930's without the Queen's Park Savannah stage - the traditional heart of this performance-driven festival. From calypso clash to pan Championships and the colourful, two-day parade of the bands, almost every part of the festival has been connected to this pulse point - the heart and spirit of Carnival.

In its fifth edition, Inside Carnival 2007 brings you Carnival beyond the Big Yard.

Yours to enjoy

The Spirit of Carnival
Track List - Disc I
Kings & Queens
Fetes
Chutney Monarch
Alternative Concept 5 - (AC5)
Soca Monarch
Kiddies Carnival
Playing Time: 63 mins.
Track List - Disc II
Pan
Dimache Gras
J'Ouvert
Parade of the Bands
Playing Time: 74 mins.
The Spirit of Carnival Inside Trinidad & Tobago Carnival 2K7 DVD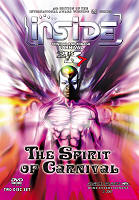 eCaroh Price: $29.95