Caribbean Black Cake - All Year
Five Fruits and Rum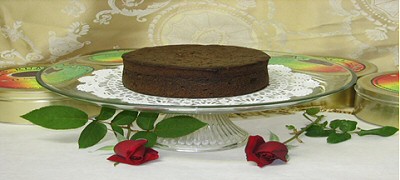 Serve traditional Caribbean rum flavored fruit cake on any occasion anytime in the year. We cater to West Indian tastes from Jamaica to Barbados to Guyana.
All cakes are made with the finest ingredients and prepared by experienced Caribbean bakers. The 10-inch cake weighs over 5 pounds and is suitable for larger gatherings.
Our 6-inch, 1 1/2 lb cake is great as a gift and for introducing this unique delicacy to colleagues and customers. It is the first item on the shopping list below and only costs $28.95 delivered to any US postal zip code.
The Caribbean Black cake recipe includes: premium quality dried fruit - prunes, raisins, currants, glazed cherries, glazed mix peel - minced and soaked in Caribbean rum and fruit wine; flour, baking powder, sugar, salt, butter, eggs, vanilla, almond, lemon extracts, assorted spices - nutmeg, cinnamon, allspice, clove. The color comes from specially prepared brown sugar.
Please enter the quantity of each size cake that you wish to order, then click Add to Cart.

You may adjust quantities in the cart before finalizing your order, and specify delivery addresses in the "Special Instructions" section of the shopping cart if the cakes are gifts to be sent directly to recipients (USA only).

If you are ordering cakes only, please select the FREE SHIPPING option in the shopping cart.
Priority Mail Delivery Service
FREE Priority Mail delivery anywhere in the USA and its territories including overseas APO or FPO addresses.
USA Zip Codes
Two – three day delivery in the 50 states
Saturday delivery and residential delivery at no extra cost
No fuel surcharges
We ship to 190 countries. Approximately 6-10 Business Days delivery. Contact us for shipping charges. Please request shipping costs for addresses outside the USA, or Express Mail orders: Orders@SweetSoca.com