Track Listing:
Faith - Third World & Friends
Golden Hopes – Third World
Hallelujah Chorus – Renegades & Lydian Singers
The Battle Hymn of the Republic – Renegades & Lydian Singers
I've Been 'buked - Lydian Singers
African Sanctus from Miss Luba - Lydian Singers
Psalm 23 - UWI Singers, Mona Jamaica
Psalm 150 - UWI Singers, Mona Jamaica
Air on a G String (Bach) - Renegades
One Moment in Time – Renegades
Weeping Mary - Cavite Chorale
Now Let Me Fly - Cavite Chorale
Caribbean Voices Vol. 1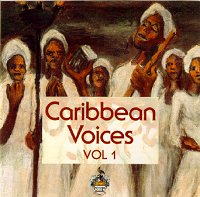 Caribbean Voices is a UWI fundraising compilation of various artistes covering different genres but it is predominantly a CD of familiar Sacred renditions. Amoco Renegade Steelband accompanies the Lydian Singers on two tracks and plays alone on two others. Third World, the UWI Singers, and the Cavite Chorale also perform sacred repertoire.
Sorry, not available