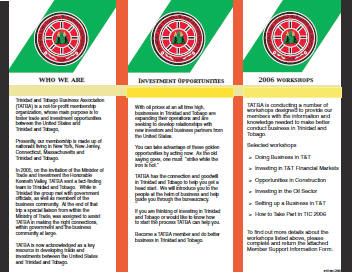 WHO WE ARE
Trinidad and Tobago Business Association (TATBA) is a not-for-profit membership organization, whose main purpose is to foster trade and investment opportunities between the United States and Trinidad and Tobago,
Presently, our membership is made up of nationals living in New York, New Jersey, Connecticut, Massachusetts and Trinidad and Tobago.
In 2005, on the invitation of the Minister of Trade and Investment the Honorable Kenneth Valley, TATBA sent a fact-finding team to Trinidad and Tobago. While in Trinidad the group met with government officials, as well as members of the business community. At the end of that trip a special liaison from within the Ministry of Trade, was assigned to assist TATBA in making the right connections, within government and the business community at large.
TATBA is now acknowledged as a key resource in developing trade and investments between the United States and Trinidad and Tobago.
INVESTMENT OPPORTUNITIES
With oil prices at an all time high, businesses in Trinidad and Tobago are expanding their operations and are seeking to develop relationships with new investors and business partners from the United States.
You can take advantage of these golden opportunities by acting now. As the old saying goes, one must "strike while the iron is hot."
TATBA has the connection and goodwill in Trinidad and Tobago to help you get a head start. We will introduce you to the people at the helm of business and help guide you through the bureaucracy.
If you are thinking of investing in Trinidad and Tobago or would like to know how to start the process TATBA can help you.
Become a TATBA member and do better business in Trinidad and Tobago.
2006 WORKSHOPS
TATBA is conducting a number of workshops designed to provide our members with the information and knowledge needed to make better conduct business in Trinidad and Tobago.
Selected workshops
Doing Business in T&T

Investing in T&T Financial Markets

Opportunities in Construction

Investing in the Oil Sector

Setting up a Business in T&T

How to Take Part in TIC 2006