Home Page
Free Newsletter
What's New
eCatalog
Audio Clips
Reviews
To Order
Payment Options
Shipping Info
Search
Profiles
About eCaroh
Things Caribbean

Click to read PDF version of this announcement
Read Press Release August 7, 2005

Guyana Folk Festival 2005
preserving, promoting, propagating Guyanese Culture
Wednesday August 31 - Sunday September 4, 2005
Exciting Labor Day Weekend Events
"Guyanese Celebrating Our Cultural Heritage"

Guyana Folk Festival Awards
Ceremony & Cocktail Reception
Wednesday August 31, 2005
Historic Borough Hall Rotunda
6:00 PM - 9:00 PM
Paying Tribute to 39 Outstanding Guyanese

"Come to My Queh-Queh"
Come "Show Meh Yuh Motion"
at an Evening of Dance, Food & Musical Celebration
Friday September 2, 2005
8:00 PM - 2:00 AM
The Courtyard, 926 Atlantic Avenue
Brooklyn, New York
(Between Washington & Grand)
"The Lio Britton's Queh-Queh Group" from Guyana
"Akoyah and the Queh-Queh Jammers"
Many other Queh-Queh Groups
$20.00 Donation

Symposium - "Celebrating Guyanese Dance"
Saturday September 3, 2005
9:00 AM - 5:00 PM
Borough of Manhattan Community College
199 Chambers Street, New York 10007
Co-Sponsors: Department of African American Studies
OHIO University, Athens, Ohio
Borough of Manhattan Community College/CUNY
Registration Fee: $25.00

Folk Festival Family Day
Sunday September 4, 2005
Meyer Levin School Grounds
(Corner of Ralph Avenue & Beverley Road)
Brooklyn, New York
12 NOON - 8:00 PM
Adults $10 children under 13 free

Live Performances on Stage -
15-member Cultural Troupe from Guyana
Masquerade Band
Kathak Dancing
"The Pageant of the People"
- an exciting dramatic presentation by over 60 Guyanese children using song, dance and costumes to tell the story of the people who came to Guyana.
Mari-Mari Dances
Kids Obstacle Races
Hoola Hoop Competitions
Maypole Plaiting
Steelband

Exciting Competitions:
Steelband, Choirs, Solos, Masquerade...
(Call for rules and information)

Exhibition and sale of Guyanese Arts and Crafts
Guyanese food and much more...
BROOKLYN, NY.
August 7, 2005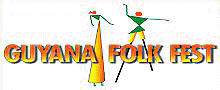 The Guyana Folk Festival announces its 2005 annual Guyana Cultural Association Folk Festival Awards. Thirty-nine awards, one for every year of Guyana's independence, will be presented at an Award Ceremony on August 31, 2005 at the Brooklyn Borough Hall, New York. The honorees will be featured in both the Guyana Folk print magazine and on the website: http://guyfolkfest.org.
The 2005 list of honorees recognizes many stalwarts of Guyanese Dance expression in acknowledgment of this year's Festival theme: Celebrating Guyanese Dance. Among the awardees are two outstanding contributors. This year for the first time, The Guyana Folk Festival will award a special Exemplary Award and the Guyana Cultural Association Wordsworth McAndrew Lifetime Achievement Award.
Madame Lavinia Williams receives the special Exemplary Award for her role in the formation and development of the National Dance Company of Guyana.
Doris Harper Wills is accorded the Guyana Cultural Association, Wordsworth McAndrew Lifetime Achievement Award for pioneering work in the dance art form.
In addition to dance, every major art form has been recognized in the broad-based selection of nominees in Guyanese culture. All Honorees are selected through an open process of call for nominations from the global Guyanese Diaspora. A selection committee evaluates each nomination considering seven attributes in our selection criteria: originality, scope, impact / influence, integration, pioneering spirit, challenges and achievements. The honorees represent exemplary models in their discipline.
Attendance at the Award Ceremony at the Rotunda of the Brooklyn Borough Hall, New York is by invitation. If you have any questions and prefer to call, kindly contact our Cultural Director, Claire Goring at 718.209.5207 for more information regarding this Award Ceremony or other Guyana Folk Festival events. You can also visit www.guyfolkfest.org or send an email to RHLammy@guyfolkfest.org.
Sincerely,
Ronald H. Lammy Tangerine Clarke,
Co-Chairs, Guyana Cultural Association Folk Festival Awards Selection Committee
2005 LIST OF HONOREES
EXEMPLARY AWARD
Williams, Lavinia
LIFETIME ACHIEVEMENT
Wills, Doris Harper
Alves, Bonny

Andries, Lloyd

Britton, Lio Queh Queh Group

Cambridge, Vibert

Chan, Neil

Charles, Dudley

Chin, Godfrey

Douglas, Andrea

Douglas Daniel, Vivienne

DrePaul, John

Emanuel, Juliet

Fredericks, John

Griffith, Linda

Hoppie, Winston

Lanyi, David

Lawrence, Margaret

Mack, Trenton

McClintock, Philip

Moore, Colin

National Dance Company of Guyana

October Edun, Rose

Pereira, Beryl

Pilgrim, Frank

Primus, Sandra

Richmond, James

Rudder, Akoyah

Sage, Boysie

Sargeant, Elsie

Seales, Ray

Shah, Malini

Singh, Gora

Singh, Pritha

Sister Rose Magdeline

Stewart-Shaw, Sandra

Taitt, Helen

Valz, Sonia

Walcott, Verna

Williams, Ras Como

Woodside Choir
2004 GUYANA CULTURAL ASSOCIATION FOLK FESTIVAL AWARD SELECTION CRITERIA
Originality: This attribute refers to nature of the idea, expression, or product/innovation. The term "expression" is used here to refer to more than verbal expressions and can include any manifestation of Guyanese creativity from plait bread, butter flaps, peddle pushers, music, paintings, our cuisine, etc.


Scope: Did the idea, expression, product/innovation have ramifications/consequences beyond the village, county, region, etc? Has it been long lasting? Here we also consider factors that could have constrained/restricted the scope of the idea, expression, product/innovation.


Impact/Influence: Did the idea, expression, or product/innovation have economic, political, cultural, and social consequences?


Integration: Did the idea, expression, or product/innovation contribute to social, cultural, and political harmony? Also, did it lead to the improvement of cultural understanding?


Pioneering Spirit: Pioneering spirit refers to an idea, expression, and product/innovation that was introduced even in the face of derision.


Challenges: This refers to Guyanese who have overcome physical, psychological, economic, social, residential, cultural, and political barriers to make a contribution that satisfies some of the criteria/attributes listed at 1 through 5.


Achievements: This refers to the nominee's body of work. It is not a mere quantitative measure---"Nuff is not always the best."
June 2004